Brewing on Books: Edgar Allan Poe's Charleston
October 5, 2022 @ 7:00 pm

-

8:00 pm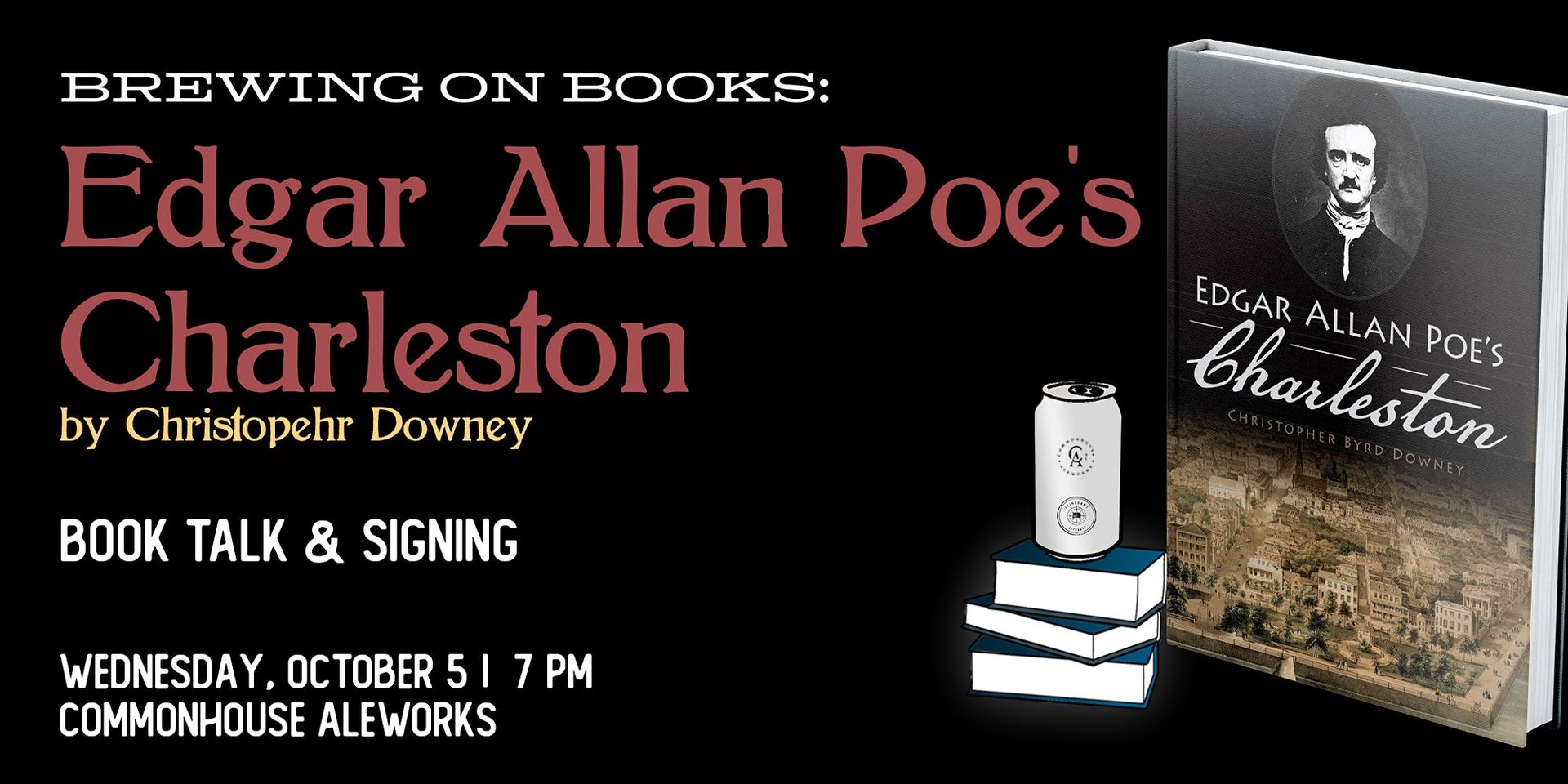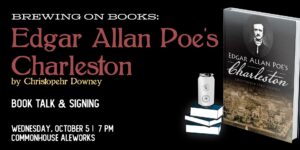 Get into spooky season with a look at master of horror Edgar Allan Poe's time in the Lowcountry, brought to us by author Christopher Downey
Join us for a community discussion held on the Common Ground with Commonhouse Aleworks as part of our event series, Brewing on Books: A Community Book Club. This series focuses on local topics of interest for community members.
Once upon a midnight dreary, we were joined by local author Christopher Byrd Downey to learn about the harrowing details of Edgar Allan Poe's Charleston adventures! We've all heard the local hearsay about the origins of Annabel Lee, the lost Lenore, and more from Poe's work; separate truth from fiction with the author who has researched it all.
Food and drink specials from Commonhouse forthcoming!
Cheers!
About the Book
Edgar Allan Poe arrived in Charleston in November 1827 chased by storms, both literal and figurative. Some of the author's previous indiscretions caused him to enlist in the U.S. Army six months earlier under the pseudonym Edgar A. Perry. The more than one year that Poe spent stationed at Fort Moultrie on Sullivan's Island has been shrouded in mystery for nearly two centuries because Poe deliberately tried to hide his stint in the army. But despite Poe's deceptions, the influences and impressions of the Lowcountry permeated his life and writing, providing the setting for Poe's most popular and widely read short story during his lifetime, "The Gold-Bug," and perhaps providing the inspiration for the real Annabel Lee. Author Christopher Byrd Downey details the hidden history of Poe in Charleston.
About the Author
Christopher Byrd Downey (Captain Byrd) received his degree in History from Virginia Tech in 1995 and shortly after graduating began a career in the maritime industry. He has previously authored two books on the history of piracy in South Carolina – Stede Bonnet: Charleston's Gentleman Pirate and Charleston and the Golden Age of Piracy. A native of Virginia, he now lives in Charleston with his wife, Tina and son, Sailor. Visit him at 
www.captainbyrds.com.
Related Events