Do you take reservations?
We are currently first come first serve both inside and outside. We do offer semi-private space and table rental for large parties, find out more info on our events page!
Do you serve food?
Sure do! Click here to check out our regular menu as well as our Sunday Brunch menu (Please note, we do not allow outside food.)
Do you have non-beer/ gluten-free options?
We offer wine, cider, frosé and canned cocktails, as well as a selection of non-alcoholic beverages such as soda, kombucha, and cold brew.
Are children welcome?
Commonhouse is proud to be a safe, inclusive, and family-friendly establishment. However, for the safety and enjoyment of all patrons, we ask that children are kept under their parent's or guardian's direct and immediate supervision at all times.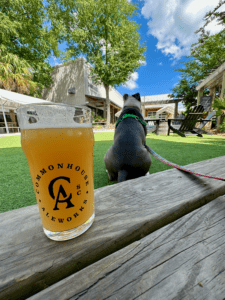 Are dogs allowed?
Well-behaved dogs on leashes are absolutely welcome in the beer yard. They are not allowed inside the taphouse due to DHEC regulations. Thank you for understanding.
Are you hiring?
Current hiring needs can be found on our Jobs page. Resumes are always accepted at [email protected].
Can you accommodate large parties/ events/ corporate happy hours?
We sure can! Please check our private events page for more information!
How can we book our band?
We love live music and are eager to support local and traveling artists. Please send an email to [email protected] to inquire about booking.
Do you have Wi-Fi?
We have the best Wi-Fi!