Support for the Common Good
"Do all the good you can, by all the means you can, in all the ways you can, in all the places you can, at all the times you can, to all the people you can, as long as you ever can."
- John Wesley, Theologian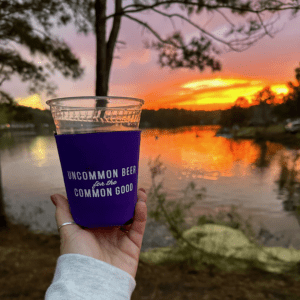 Producing and serving quality beer is table stakes for our organization. Celebrating what we all share in common and making a positive impact in the communities we serve is what drives our team. Our unCOMMONly GOOD beer series has been a dream since we opened. We were ecstatic to finally launch it in conjunction with our 3rd anniversary in January of 2021 because we believe it will allow us to expand our positive impact on the common good.
This series includes beer releases and a sharing of our platform to celebrate and support organizations doing great work. Proceeds from the unCOMMONly GOOD Beer Series are given to community impact organizations across Commonhouse's market footprint. We have enjoyed collaborating with these organizations in the past and believe our unCOMMONly GOOD Beer Series will allow us to do more for and with these organizations.
Park Circle Cares
http://parkcirclecares.org/
Park Circle Cares is a non profit organization with a passion to combat food insecurity in the Charleston, SC and Lowcountry areas. Park Circle Cares purchases food from the Lowcountry Food Bank, and other organizations, then we transport food goods to neighborhoods that have a high food need.  We then unload and bag items for individuals who go through a line to receive said foods.  Any leftover foods are donated to local churches, and senior citizens homes.

Metanoia
At Metanoia, we believe that the most efficient and effective way to help neighborhoods recover is by discovering and investing in their strengths rather than constantly focusing on their problems. We attract investment to neighborhood assets to build award winning and effective opportunities that harness the capacity of our community's citizens. Those who deserve the strongest voice in community renewal are people who live in the neighborhoods where we seek to create opportunities. Finally, Metanoia programs are rooted in faith in God and one another.

NAACP Legal Defense Fund
The NAACP Legal Defense and Educational Fund, Inc. is America's premier legal organization fighting for racial justice. Through litigation, advocacy, and public education, LDF seeks structural changes to expand democracy, eliminate disparities, and achieve racial justice in a society that fulfills the promise of equality for all Americans. LDF also defends the gains and protections won over the past 80 years of civil rights struggle and works to improve the quality and diversity of judicial and executive appointments.

Lowcountry Orphan Relief
Lowcountry Orphan Relief, Inc. (LOR) is a non-profit organization that provides goods and services to children who have been abused or neglected. We work directly with other non-profits, schools, foster parents, and government agencies to identify the individual needs of these and other children in severe situations. We intervene at critical junctures in the lives of these children, with products and services that provide a strong, positive impact.

Charleston Trident Urban League
The Charleston Trident Urban League (CTUL) promotes diversity and racial inclusion and provides multifaceted programs that assist African Americans and all other underserved groups to achieve social equality and economic self-sufficiency.

Alliance For Full Acceptance (AFFA)
https://www.affa-sc.org/
A Charleston organization committed to:
Achieve, nurture, and defend equality and full acceptance for lesbian, gay, bisexual, transgender, and queer (LGBTQ) people.
Dispel the myths and half-truths that trap us all – about economy, race, and origin; who we can and can't be; who we can and can't love; who's entitled to freedom and expression, and who's not; who's valuable, and who's expendable – and reveal our true essence and pride.

We Are Family
Our mission as a Southern Grassroots non-profit organization is to provide affirming spaces for LGBTQI+ (lesbian, gay, bisexual, transgender, queer/questioning, intersex, etc.) and ally youth up to the age of 24 through direct support, leadership development, and community engagement. 

Tri It For Life
Empowering women of all ages, sizes, backgrounds, and abilities to develop healthier lifestyles through triathlon training, mentorship, and community.

Camp Rise Above is a unique non-profit organization that provides fun, life changing camp experiences to children and young adults with serious illnesses, life challenges, and disabilities.

Eunoia Rescue is a 501 (c) (3) nonprofit organization located in Charleston, South Carolina. We are dedicated to saving lives of homeless animals in South Carolina by pulling them from the euthanasia lists of local shelters and placing them in loving homes until they are adopted. We generally have between 50-80 animals in our rescue at any point in time.

​

Ohm Radio provides listener-supported, non-profit, non-commercial, locally-produced programming dedicated to serving Charleston, SC with a wide range of community perspectives. We operate in a nonpartisan, nonsectarian manner. We believe that democracy cannot flourish when only a few have access to the media, so we aspire to be a forum for voices and points of view that are underrepresented in our community's existing media. Our goal is to inform and empower listeners to play an active role in Ohm Radio and in the Charleston community. Our programming promotes the arts, equality, peace, sustainability, democracy, health, and social and economic justice. Because we believe
that knowledge is power we work diligently to bring rich educational resources to our listening audience.

 

Neighbors Together is a registered 501(c)3 nonprofit providing food, clothing, medical care, sheltering, job training, financial assistance , clothing, legal assistance and other vital services to our neighbors in the tri-county area.

We also offer a weekly, socially distant, grocery distribution where our neighbors can receive fresh produce, non-perishable goods, diapers, toiletries, feminine hygiene, clothing and more! We work to be a safe, compassionate, and inviting place for all people in need.
Beyond our unCOMMONly GOOD beer series, a portion of every Commonhouse beer sold is donated back to local community groups making an impact in and around Park Circle. We support organizations linked to charitable works around the area. If your organization thinks the way we do, we would love to hear from you! Please tell us a little bit about yourself and your ideas around giving back to the community. While we cannot support every cause, we are committed to evaluating every single submission and reaching out if there is a fit. Thanks for being part of the Common Good!